About us
"I have had the pleasure of working with Greenland Extreme both onboard a yacht visiting Greenland and on a truly extreme Heli skiing expedition to Disko Island.  Arne Hardenberg is not only a world class guide and skier, but a true expect of Greenlandic culture and history.  Our trips were world class and always exceeded our expectations.   I would highly recommend Arne, Adam and the Greenland Extreme team to anyone visiting Greenland and looking for an extraordinary experience."
Sam Byrne
MV PIONEER
Principal Owner Yellowstone Mountain Club.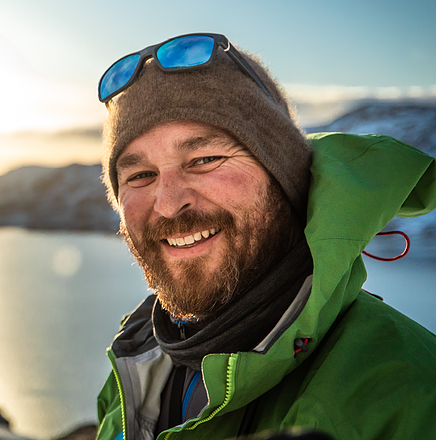 Arne Hardenberg-
the Owner of Greenland Extreme APS – making someones dream come true.
Arne Hardenberg, pretty much the best guide you can get in Greenland.
Definitely a snow man considered to be born in snow 🙂
Arnes background as an professional athlete in alpine skiing for 12 years plus many international competitions under FIS, and last but not least in one Olympic Games and in five World Championships has given Arne a tremendous knowledge that can make any snow loving entusiast envy. But dont be afraid, Arne is hard to hate when he has so much good energi vibes around him. He is one of the most positive stay tuned problem solving guide you will ever meet. At least his wife Christina thinks so.
Arne has participated 6 times in ACR – the world's toughest 160 km cross country skiing.
Through his time as an alpinist he has worked as a coach for the Greenlandic national skiteam and given him the know how to create a good team work.
Arne has been working as a manager for 2 biggest sportshops in Greenland for 10 years and have gained tremendous knowledge about outdoor and sport gears adapted to arctic conditions.
Finally he has been working with children with social problems and rehabilitation through sport and nature for 6 years.
Christina Hardenberg
Christina works at the Greenland Extreme office and making everything run smoothly. Educated occupational therapist converted into a coordinator just because it makes it hard not to work with such an all around guide as Arne Hardenberg at all. Always good to have Christina at the office so Arne is free from office pain  🙂